A Wedding Photographer's Guide to Sacred Passages Chapel in San Marcos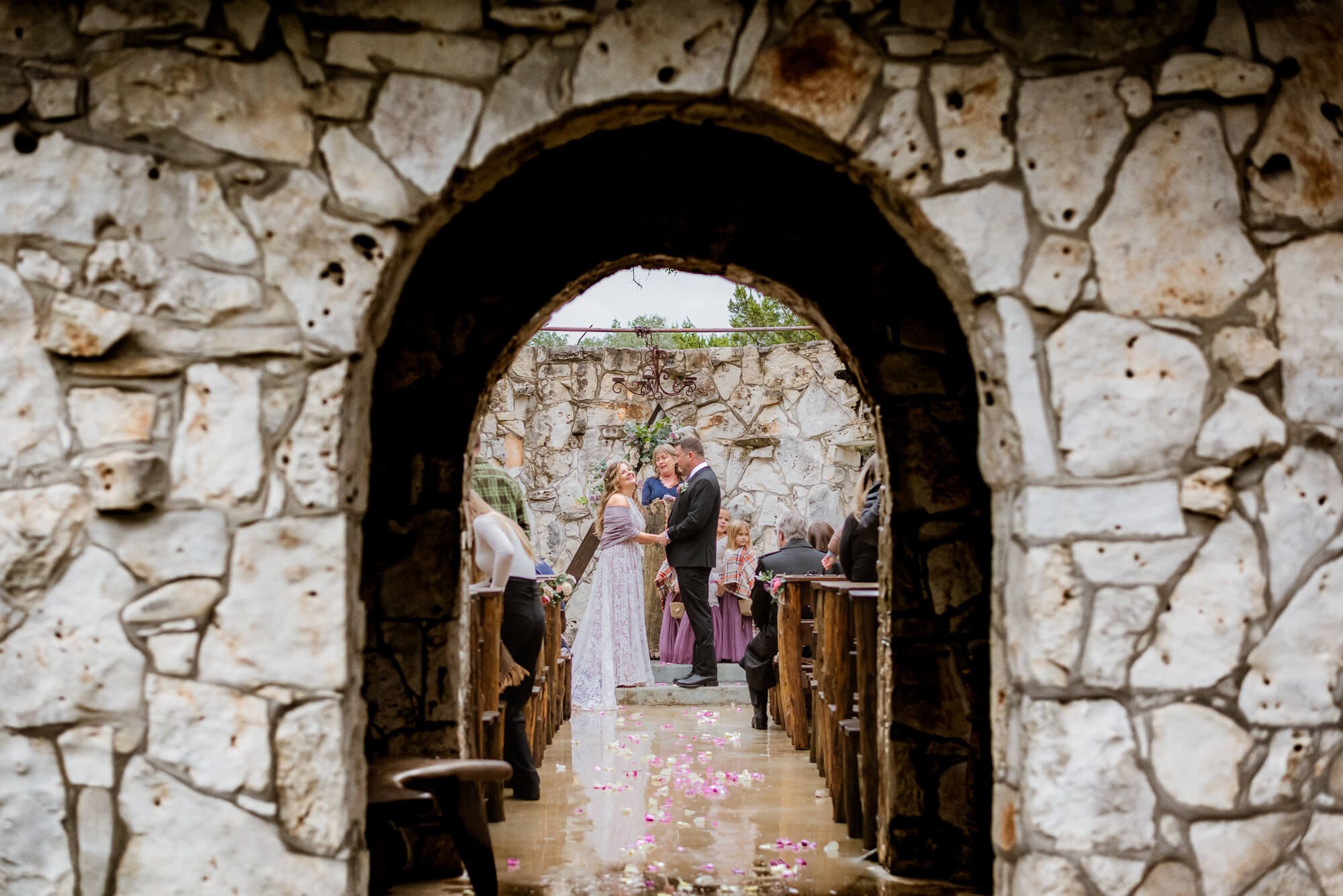 Ethereal Outdoor Wedding Venue Near San Marcos
Congratulations brides-to-be! If you're envisioning a serene and intimate wedding near San Marcos, your search ends here. Today, I invite you to embark on a journey at the Sacred Passages Chapel in San Marcos—a hidden gem that promises to make your small wedding dreams come true. With its limited capacity, this venue caters perfectly to couples who desire a small wedding surrounded by their closest family and friends. Immerse yourself in an atmosphere of love and togetherness, where every detail can be tailored to your specific vision, ensuring an unforgettable experience for all.
An Intimate Wedding Chapel in San Marcos
The Sacred Passages Chapel, nestled between San Marcos and Wimberly, is a serene sanctuary that encapsulates the essence of romance and tranquility. Enveloped amidst lush greenery and surrounded by towering trees, this outdoor venue is a haven for couples seeking an intimate wedding experience. The chapel's architecture blends harmoniously with its natural surroundings, creating a picturesque backdrop for your special day.
The Perfect Venue for Artistic Wedding Photography in San Marcos
For the creative souls among us, the Sacred Passages Chapel offers the perfect canvas for artistic outdoor wedding imagery. From dappled sunlight streaming through the trees to serene pathways adorned with flowers, and the open air chapel, every corner of this venue begs to be captured in timeless photographs. The rustic cabin is chock full of unique artwork giving this location even more charm.
What to Know Before Selecting this Wedding Venue
Planning a wedding, regardless of its size, can present challenges. Here are a few common dilemmas you might encounter at the Sacred Passages Chapel and some practical solutions to overcome them.
1. Décor and Styling
Embrace the organic beauty of the Sacred Passages Chapel and incorporate natural elements into your wedding theme. Consider floral installations, delicate greenery, and soft, flowing fabrics to create an ethereal ambiance. This location is already beautiful, not much is needed for decor. Embrace this small venue and set up a tent outside for food and tables.
2. Weather Worries
While an outdoor wedding venue offers a unique charm, it's essential to plan for unpredictable weather. Work closely with the venue staff to arrange for backup options, such as a tented area or an indoor space, so you can have peace of mind even if Mother Nature decides to sprinkle a little rain. As you may be able to see in these wedding photos, the weather had changed and it was a cold and rainy day, but we made the best of it!
3. Choosing the Right Team
Selecting the right vendors who understand your artistic vision is crucial. Seek recommendations from the venue or trusted friends, and invest time in researching photographers, caterers, and stylists who share your passion for creating a magical atmosphere. Surround yourself with a team that will bring your dreams to life, ensuring that every aspect of your wedding day exceeds your expectations.