How To Define Your Personal Brand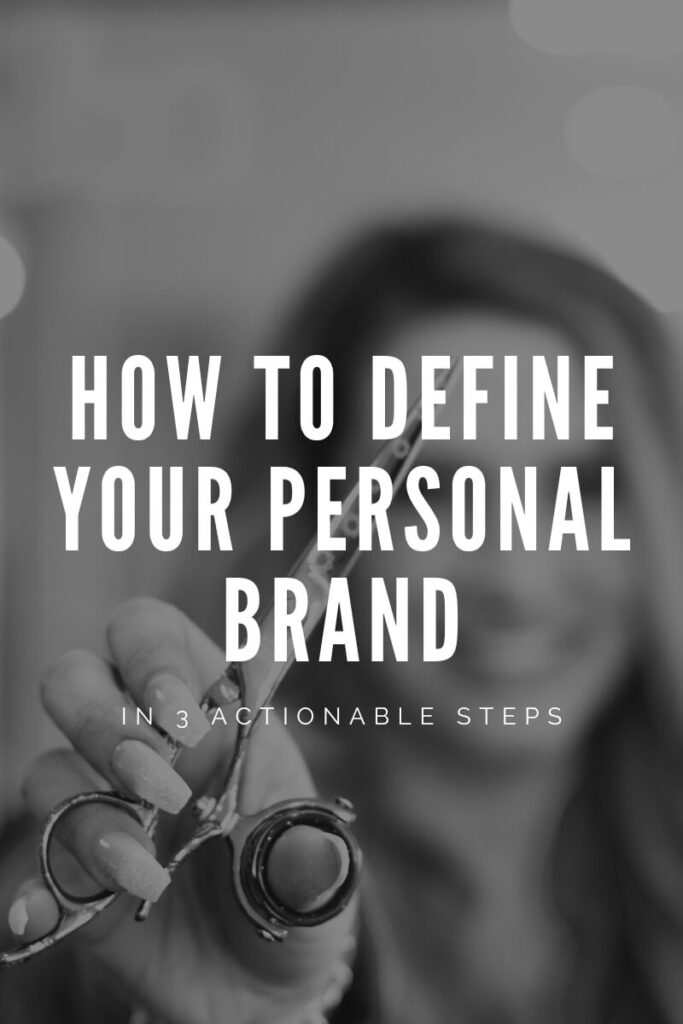 How To Define Your Personal Brand In 3 Steps
You can find advice all over the internet telling you to define your personal brand. But no one tells you how. That's what this article is aiming to do. Let's break down this first step into a smaller chunks so we can get clearer on what it means.
First and foremost, if you don't know what a personal brand is you can read more about that in this article I wrote: How To Create A Personal Brand
Ok, now that that's out of the way let's wipe off our glasses and get some clarity.
Step number one on the list for how to create a personal brand is to take time to define your values, goals, and unique selling points.
If you're wondering what the hell that even means, you're not alone. When I first started coming across advice like this, it sounded so vague and abstract. I didn't know it was possible to angrily click and close tabs on my internet browser while mumbling obscenities at my computer screen until I started trying to define my personal brand.
But I muddled through and in doing so realized I could help others do this with way less stress. So, let's dive in!
How to define your values in your personal brand
Below is a list of values I found on Brené Brown's website (she's got a printable if you'd like to physically circle the words or rank them). I'm suggesting trying to pick the top 3 or 4 you resonate with the most. She had 2, but I feel defining your personal brand is hard enough without having to agonize over these values.
Accountability
Achievement
Adaptability
Adventure
Altruism
Ambition
Authenticity
Balance
Beauty
Being the best
Belonging
Career
Caring
Collaboration
Commitment
Community
Compassion
Competence
Confidence
Connection
Contentment
Contribution
Cooperation
Courage
Creativity
Curiosity
Dignity
Diversity
Environment
Efficiency
Equality
Ethics
Excellence
Fairness
Faith
Family
Financial stability
Forgiveness
Freedom
Friendship
Fun
Future generations
Generosity
Giving back
Grace
Gratitude
Growth
Harmony
Health
Home
Honesty
Hope
Humility
Humor
Inclusion
Independence
Initiative
Integrity
Intuition
Job security
Joy
Justice
Kindness
Knowledge
Leadership
Learning
Legacy
Leisure
Love
Loyalty
Making a difference
Nature
Openness
Optimism
Order
Parenting
Patience
Patriotism
Peace
Perseverance
Personal fulfillment
Power
Pride
Recognition
Reliability
Resourcefulness
Respect
Responsibility
Risk-taking
Safety
Security
Self-discipline
Self-expression
Self-respect
Serenity
Service
Simplicity
Spirituality
Sportsmanship
Stewardship
Success
Teamwork
Thrift
Time
Tradition
Travel
Trust
Truth
Understanding
Uniqueness
Usefulness
Vision
Vulnerability
Wealth
Well-being
Wholeheartedness
Wisdom
Write your own:
Once you have those 3 or 4 values written down, I want you to write down a couple of sentences for how or why each value is important to you personally. This can feel really hard, but try not to put it off. Try to write it immediately. You are not expected to be a poetic genius here, but to get words on a page.
How to define your goals in your personal brand
Goal setting initially seems fun. Who doesn't want to set a goal to be successful? But instead of thinking about the success you want to achieve, it's a better idea to consider the cost of the goal. For example, if you wanted to set a goal to become an Olympic swimmer are you willing to train and sacrifice everyday to get there?
Write goals that are observable, measurable, and that you have control over.
Here's an example goal: Create a search engine optimized website that attracts ideal clients.
With tools like google search console and analytics you can see who is finding your website and how. You can measure these results and change the website around and get different results.
First, write down 3 goals and then write down the sacrifices you might have to make to achieve those goals. If you're having trouble thinking of the sacrifices ask a partner or friend what they think. Starting a new venture is a lot like your first love because the rose colored glasses will eventually come off.
How to define your unique selling points in your personal brand
Unique selling points can be so hard to define, but guess what? You can change them! When I first started creating my personal brand I agonized for days and weeks over what made my personal brand unique. Hell even writing this project helped give me some new ideas that I plan to implement.
Comparison Disclaimer
The problem is it can literally be anything. This is the reason that they buy from you and not your competitor. So here's the deal… I highly suggest figuring out who, in your area, is your competition. Now before you even go to their website, be forewarned. This exercise is difficult. That person, brand, or company may appear to have their shit together. As humans we naturally compare ourselves to others and I want you to try like hell to resist that natural urge. If you don't, it will keep you from moving forward.
Now, get out that notebook and open their website. Start practicing looking for their unique selling propositions. Why do you think people are buying from them? What are the words and images on their website conveying to you?
Look for a common thread
If you have reviews from past clients or evaluations from past employers start looking over the words that were used. Do you see any common threads?
A couple of examples of USP's to avoid:
Don't let price be your unique selling point. The best prices in town! Avoid this idea. Prices can and will change and you don't want to compete over price. Eventually this will put you out of business.
Another selling point to avoid is experience. Over 20 years experience in XX field! Yes, it sounds good initially, but it is not unique.
Instead, focus on your strengths what are you really good at? Take other people out of the equation. Maybe you're a PR firm and you hear a lot of feedback about being a good listener. Great! Now look back up at your list of values. Start looking up definitions of these basic words. What is a good listener? Start brainstorming a list and you will find the words that hold meaning for you.
When you feel you have a pretty decent list of USP's think back to who you're trying to reach.
Finally, breathe, because, you can tweak this. If things change and you start wondering about the people that are drawn to you, reevaluate.
Would you like some help defining your personal brand?